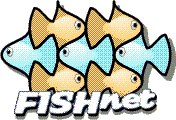 FISHnet
FISHnet is an Acorn PD games coding group, consisting of one person (ie me) doing design, coding, graphics and sound. The aim is twofold:
(1) To produce simple & playable games with quality presentation.
(2) To provide tools for game creation so other folks can do the same, with less effort.
---
Being a solo -and spare time- effort, the output's not exactly prolific.
Here's the list...
QBuild

QBuild - The "Quake" map building tools, ported to RiscOS
Pushy II

...The acclaimed box-pushing game for Acorn computers...
The version available from this site is Pushy II v2.12, which (a) is now StrongARM compatable, and (b) Includes the Pushy I levels.
Quantize.

...The utility for creating sprites & Gifs with a few colours from 24-bit sprites...
---
And also, here's the smaller items...
Pushy - A rendition of the classic "push the boxes" puzzler
InfoHack - Message-extraction utility for "Infocom" adventures.
Fire - Risc PC demo
Tydirium - A Risc-Os desktop "game-map" editor.
Prepare to enter...


The Download Zone!
---
Link back to the Home page
Link to the Softography
---
Boring legal gubbins:-
These pages are © R E Williams, aka "Fred", aka "FISHnet software" 1997.
Any resemblance between views expressed by me, and the views of Orpheus, or whoever, are a bit of a spooky coincidence, really.
---